Meltzer (MFA 1998) and Skogerson (MFA 2001) featured at Whitney Biennial
Meltzer (MFA 1998) and Skogerson (MFA 2001) featured at Whitney Biennial
Date posted: 2008-03-06 11:03:00
Credit: Still from "We will live to see these things" (Julia Meltzer and David Thorne, 2007)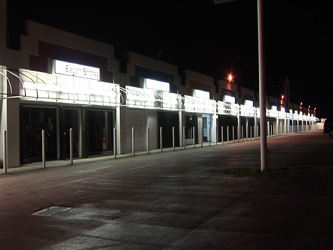 Gretchen Skogerson, Still from DRIVE THRU, 2006.

Born 1970 in Teaneck, New Jersey; lives in New York, New York
Neatly centered in a wide-screen frame, silent against the ambient drone of passing tra≈c, a pale rectangle of light hangs suspended in darkness. Four long fluorescent lightbulbs horizontally stacked at a slight diagonal pulse with erratic, hypnotic rhythm; a fifth has gone out, disrupting the symmetry. Next, a single bulb appears, positioned at the same angle, and a sudden swell of primitive dance beats rises on the soundtrack, quickly dispelled by the barking of a dog. More fluorescent lights follow, in varying arrangements and states of disrepair—these are the opening images of DRIVE THRU (2006).
If the new, almost 20-minute video by Gretchen Skogerson suggests a Dan Flavin sculpture gone to seed, the title she gives to her ongoing project of experimental shorts, The American Disaster Series, evokes the Death and Disaster paintings of another sixties icon, Andy Warhol. While the nature of the calamity in DRIVE THRU is never specified, more than pretty lights come into view as the artist widens the early, abstract perspective of her shots. Fragments of words enter the frame, collaged alongside the fluorescent tubes: "LA," "EN," "Ra Jewelers," "BIKES." The work is "a landscape of incomplete signs," as Skogerson has described it, in a very literal sense, documenting bits and pieces of signage from strip malls, gas stations, fast-food restaurants, and small businesses. Pulling back her perspective even farther, the tip of a palm tree sways against the night sky, cars zip by on nocturnal errands, and ghostly human figures emerge and retreat into the shadows. The soundtrack, meanwhile, continues its peculiar mix of natural and manufactured noises, unifying the images and strengthening the sense that a specific geographic region—desolate, urban, working class, temperate—is being contemplated.
Skogerson's "talking mirror" installation PS (2005) anticipates the reflective, circumspect nature of this later work: beckoned by an electronic voice whispering "psst," viewers are invited to close proximity with their own reflection, upon which the mirror discloses a secret. DRIVE THRU is likewise predicated on a reticent disclosure, albeit one revealed by the gradual widening of perspective: the video comprises images captured on the tattered streets of Miami in the wake of Hurricane Ivan in 2004. Without identifying this source material, DRIVE THRU examines the aesthetic paradoxes of disaster in terms at once local and universal, specific and abstract, finding structure within ruin, Minimalism in the mundane, elegance in the shattered, and light in the dark. NATHAN LEE
Gretchen Skogerson, Still from DRIVE THRU, 2006. High-defintion video, color, sound; 19:40 min. Collection of the artist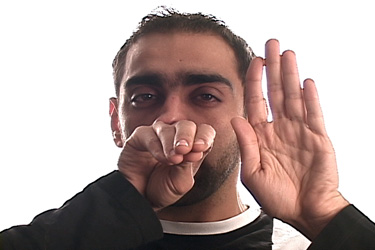 Julia Meltzer and David Thorne, Still from not a matter of if but when: brief records of a time when expectations were repeatedly raised and lowered and people grew exhausted from never knowing if the moment was at hand or was still to come, 2006.

Julia Meltzer: Born 1968 in Hollywood, California; lives in Los Angeles, California. David Thorne: Born 1960 in Boston, Massachusetts; lives in Los Angeles, California
Los Angeles–based Julia Meltzer and David Thorne produce installations, photographs, and videos that raise questions about the uses of documents and their social, political, and affective impact. Formerly working under the moniker The Speculative Archive, the artists' collaborative activities from 1999 to 2003 examined the intersection of state secrecy, memory, and history. Newer works address the use of documents— ranging from images and texts to objects, people, and even physical structures—"to project and claim visions of the future," according to the artists.
Two recent videos, nominally proposed as "documentaries," were shot while the pair was living in politically volatile Damascus, Syria. Not a matter of if but when (2006), a 32-minute work featuring Syrian performer Rami Farah, is a series of stirring monologues about peace, friendship, hate, vengeance, retribution, and transcendence. The 47-minute We will live to see these things, or, five pictures of what may come to pass (2007), similarly divided into distinct segments, chronicles a long-delayed building project in downtown Damascus, the hope for a perfect leader, an interview with a dissident intellectual, young girls at a Qur'an school, and "an imagining of the world made anew," in the artists' words. The sum of these distinct vantages, which include different stylistic techniques of observation, creates a kaleidoscope of "different perspective(s) on what might come to pass in a place where people live between the competing forces of a repressive regime, a growing conservative Islamic movement, and intense pressure from the United States," they explain.
Both works emerged out of the artists' research on notions of preemption developed by the Bush administration in 2002—the idea of taking present military action based on future predictions determined by inchoate, immanent, or speculative evidence. Each "documentary" turns on its head the usefulness of documents, and the viewer encounters palpable uncertainty: What is fact and what is fiction? What is scripted and what is not? And most ominously—and with piercing affect— what is to come? Interspersing a sometimes straightforward interview style with other deliberately ambiguous, fictionalized, and even fatuous treatments, these videos depart decisively from typical documentaries about the Middle East, being "informative without necessarily 'providing information,'" as Thorne notes. With this reversal, these "documentaries" attain a powerfully aesthetic, anti-instrumental dimension, leaving the viewer, in poet Theodore Roethke's words, to "think by feeling." At the same time, the works remain harrowing records of a particular time and place, examining and performing the present moment's political crisis—also a crisis of representation—and raising serious questions about how visions of the future manifest their destiny. TODD ALDEN
Julia Meltzer and David Thorne, Still from not a matter of if but when: brief records of a time when expectations were repeatedly raised and lowered and people grew exhausted from never knowing if the moment was at hand or was still to come, 2006. Video projection, color, sound; 32 min. Collection of the artists